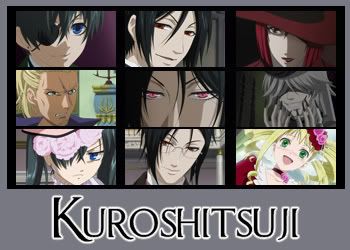 Oh I do so love it when raws are uploaded into very nice large HD quality resolutions it makes screen capturing shows like Kuroshitsuji an absolute joy! Not that this series needs much help to be a joy. LoL Beautiful characters, lovely plots, and a stunning backdrop make this one of my fave series of the new season. So if you like a bit of mystery with your bishies check this series out!

Edit: 11-09-2008 - Added captures for episodes 5-6.

See some Samples over here.

Episode
Type
File Size
# of Caps
Cap Size
Link
01
.jpg
83 mb
1138
1920 x 1080
MediaFire
02
.jpg
84 mb
1091
1920 x 1080
MediaFire
03
.jpg
96 mb
1130
1920 x 1080
MediaFire
04
.jpg
81 mb
1104
1920 x 1080
MediaFire
05
.jpg
43 mb
982
1920 x 1080
MediaFire
06
.jpg
53 mb
1199
1920 x 1080
MediaFire