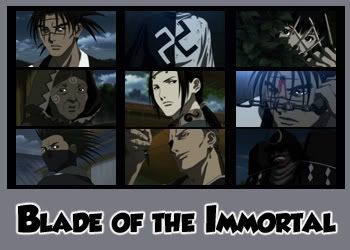 While I am a huge fan of this manga I'm actually not that big of a fan of the anime series. Partially because of small changes to the storyline but probably most because theres no really good groups doing the subbing so I spend half the time annoyed with translations. Yes I am really picky but darn it I am completely in love with the art style that is shown here. Even the most violent scene is done with such style and beauty. It makes it completely impossible for me not to do screen captures for this series.

Oh side note: I wasn't able to get a very good copy of episode #4, most of the show was fine but there were points in the action scenes where the video would glitch andI wasn't able to capture, so if I can find a better version I'll do another set of those at a later time.

See some Samples over here.

Episode
Type
File Size
# of Caps
Cap Size
Link
01
.jpg
19 mb
891
1024 x 576
MediaFire
02
.jpg
15 mb
608
1024 x 576
MediaFire
03
.jpg
16 mb
737
1024 x 576
MediaFire
04
.jpg
18 mb
748
1024 x 576
MediaFire
05
.jpg
17 mb
719
1024 x 576
MediaFire